Welcome To FIMACO
FIMACO which established in 2010, develops, produces and supplies a wide range of specialty Fertilizers and Biostimulants for Nutrigation and foliar application. From the very beginning, FIMACO aimed to change agriculture for the better. Thanks to the experience acquired in these years of activity, the strong relationship with the greatest worldwide producers of raw materials, and the collaboration with important Universities and Research Centers, FIMACO provide a complete portfolio of fertilizers that optimize plant nutrition and maximize the performance of any crop.
EXPLORING AND ADVANCING WHAT'S POSSIBLE
Backed by our strict research and development, we offer a range of products designed to provide superior nutrition for optimal growth. Powered by advanced crop nutrition technologies pioneered by FIMACO, these fertilizers ensure not just the right balance of nutrients, but the right material consistency to give growers an efficient application experience and optimum nutrient distribution for increased yields. we are proud to offer the very best in quality, so you always get the best out of your crops.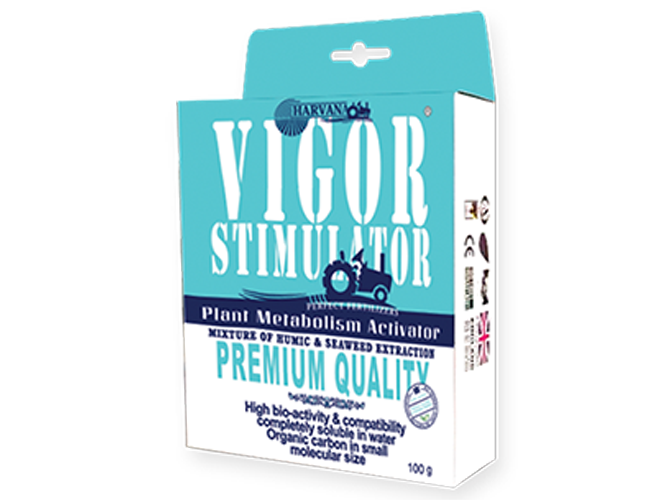 VIGOR STIMULATOR is a homogeneous powder mixture of Humic acid and Seaweed and is designed to support the growth of field crops, fruit and ornamental plants during the entire vegetation ranging from support for the formation of roots, growth, leaf area through the main preiods of growth until flowering and fruit growth
Nutrient uptake improvement:
Fulvic acid creats an organic coating around Macro and Micronutrients which is
VIGOR EXPROMA is designed for improving fruit yield and quality specifically in Pistachio
VIGOR EXPROMA is highly rich in Zinc, Calcium, Boron and Molybdenum
Calcium: Optimum fruit Ca concentration promotes fruit firmness, increases disease tolerance, reduces storage related disorders, promotes Nitrogen absorption and increases Nitrogen use efficiency